Singularity Knots
---
Consider a singularity at 0 of an algebraic curve in the complex plane

. By identifying

with
the curve can be viewed as a 2 dimensional surface over the real numbers. The intersection of this surface with a small sphere in
with center 0 consists of a number of closed curves over the real numbers. After applying a projection from this sphere (which is 3 dimensional over
) to
a set of closed curves in
is obtained. See also: E. Brieskorn, H. Knörrer: Ebene Algebraische Kurven, Birkhäuser 1981.
---
Click on the picture to view the corresponding knot.
---

---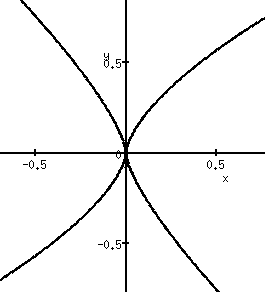 An animation of this singularity knot. In this animation the singularity knot in the sphere in
is not moving. Only the projection point to map the knot to
is moving.
---
---

Have a look at these animations!
Back to the Nijmegen Math Homepage